If you like saving money and you love finding a great deal,
MOOLALA
may be just your thing! Oh, and the fact that you can make some extra money in the mean time doesn't hurt!
Why could Moolala possibly be better than Groupon?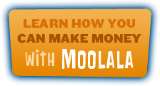 Check this out! If you sign up for Moolala you'll be sent an amazing deal via email that could save you tons at local and online businesses you love! But there's more...
Moolala will give you 2% back on each deal you buy. And for each friend you refer to Moolala, you will earn 2% of every deal they buy. And that's not all: Moolala will pay you 2% for each friend they refer, and again for your friends' friends' friends and your friends' friends' friends' friends. It's a 2% five-level reward system. That adds up to lots of rewards for you and your friends.
You will be able to use your rewards to buy the Moolala deals you love or even redeem them for cash. It's up to you. Sounds Incredible, right?
Moolala is fairly new and still working on deals in certain areas. My own included. I'm going to hang in there and check this out. This could be BIG!
Hurry,
sign up
and spread the word!!!